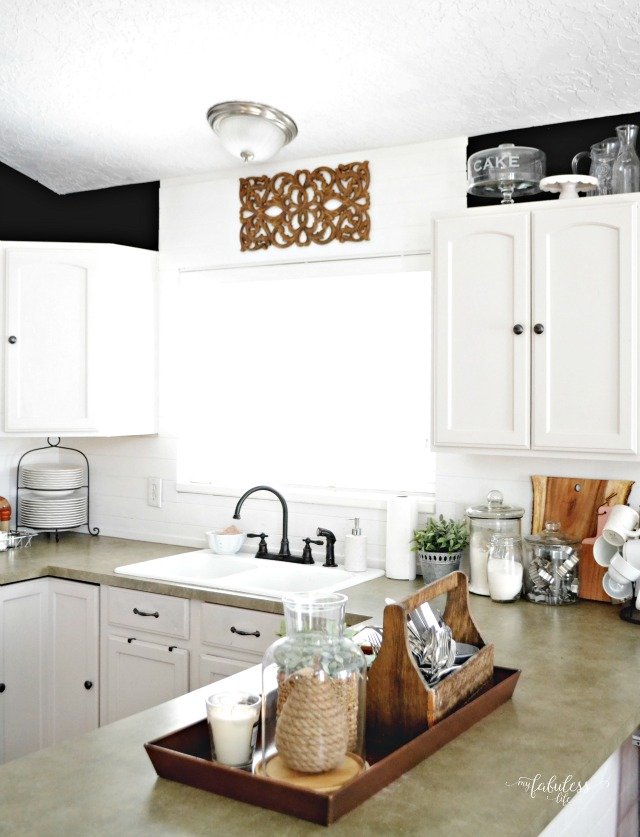 A Pro Reveals the Secret to Organizing a Tiny Kitchen at PopSugar

Trying to organize serving ware and cooking supplies in a normal-size kitchen is challenging, but trying to do it in a tiny kitchen can seem downright impossible. How to conquer such a monumental task and bring order and calm back into the heart of your home? Amelia Meena, T.J.Maxx and Marshalls Organizational Expert, has the answer!

Check Amelia's 10 tips for maximizing space and organizing even the smallest of kitchens in her words below.
1. Think Through What You Need
"Kitchens are a workspace, and no one wants to feel cramped and cluttered while preparing meals. As a first step, I suggest clients think through the utensils/kitchen gadgets they use the most. It's important to think about how you use your kitchen (love to cook? more of a baker? or do you order in most of the time?), and then you'll have a better idea of what stays, what goes, and what gets put out of reach."
2. Make Everyday Essentials Easily Accessible
"Everyday essentials, should be readily accessible. For instance, pick one solid cutting board and lean it against the wall behind the faucet. To clear up counter space, add a towel rod to a wall by the sink to have your paper towels at the ready when cooking and cleaning."
3. Remove Everything That Doesn't Need to Be In the Kitchen
"Anything that doesn't belong in the kitchen should be removed and placed in a proper location; medicine should be kept in the bathroom or a medicine cabinet, office supplies should live in a desk or home office, and cleaning supplies in a designated closet or cabinet."
4. Organize Cabinets Based on Use
"Cabinets should be organized based on how often each item is used. Place glasses, plates, and bowls at eye level, heavier items like pots and pans down low, and seldom-used items such as baking supplies and entertaining serveware on the top shelves."
5. Divide Drawers
"Drawer dividers are a great organizational tool. If you only have one drawer in your kitchen, use it for utensils but keep the larger, serving utensils in a sturdy countertop holder. Try using a wide-mouth ceramic vase or decorative water jug for added flare, which can be found stores like T.J.Maxxand Marshalls for incredible prices that won't break the bank."
6. Use a Monochromatic Color Scheme
"Color coding can keep even the tiniest of kitchens looking neat, streamlined and more spacious than they are. Consider picking a monochromatic color scheme for your cookware and everyday essentials to help bring order among bulky pots and pans. From matching dish sets to utensils sets, tjmaxx.com everything needed to create a chic and stylish space."
7. Take Advantage of Vertical Space
"In smaller spaces, make sure to use all vertical space, including the walls and the side of the fridge. Nail a stylish box to the wall to use as a container for spices or attach a magnetic rack to your fridge to house all knives or baking tools."
8. Invest In an Industrial Rolling Stand
"If you have limited countertop space, consider purchasing an industrial-style rolling stand to serve as a place to house your frequently used cookware. Look for one that also features a wine rack, so you can easily transition this piece to be used as a bar when entertaining guests. Stores like T.J.Maxx and Marshalls are great places to shop for quality kitchenware pieces at amazing prices."
9. Declutter Your Pantry
"Declutter a cramped pantry by grouping foods and placing them in sturdy bins. Whether it's a clear plastic bin or thin, wired basket, grabbing snacks and supplies on the go has never been easier."
10. Buy a Free-Standing Wired Cabinet Shelf
"A great find and an easy fix for lack of space is to add a free-standing wired cabinet shelf for additional storage. This is a simple solution to add another level for plates and mugs, or even a designated space for canned goods."
January 2017
POPSUGAR.COM
Read original article here >