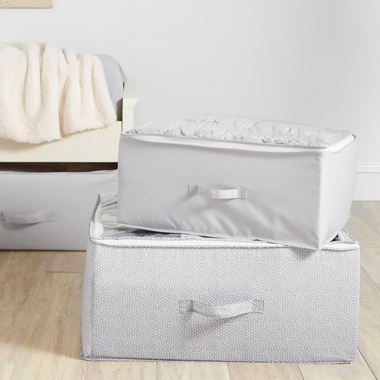 8 Genius Closet Organization Hacks at The Stir | Cafe Mom

Unless you're a Real Housewife or '90s-era Carrie Bradshaw, odds are your bedroom closet leaves something to be desired in terms of space and storage.

But that doesn't mean a pile of sweaters needs to fall on your head every time you open the door, or that you have to dig through a heap of jeans and never-ending shoes just to find an outfit.

We spoke to top organization experts in order to find out the most efficient ways for setting up a small closet. And it turns out, with a few small tweaks, you can completely change the way you feel about your closet, no matter how cramped it seems.

Kick your small cluttered closet to the curb with these eight tips from the professionals. Your sanity (and your partner) will thank you.
Where to Begin?
The most daunting task of closet organization is getting started. But don't let that deter you — something beautiful is around the corner! "Start by gathering inspiration," says NYC-based organizer Laura Cattano.
"There are so many ways to organize a closet, and the idea is to see what you like best." (Hello, Pinterest!)
Cattano also advises clients to take an inventory of what you have. "Count, don't guess," she says. "This will tell you things like if you need more shoe space versus hanging space."
What to Fold, What to Hang?
Not every article of clothing needs to be hung in your closet, but determining what should go on hangers and what can be folded (and kept in drawers) can prove to be a challenge.
"Some things just have more structure than others, like jeans, T-shirts, and sweaters," notes Amelia Meena of Appleshine Lifestyle Organization. "These are easy to fold and stay nicely when stacked on a shelf."
Meena adds that if you have a little extra room to hang things, choose articles of clothing for your "everyday uniform" so you can create an outfit at a glance each day and save time.
Think About Vertical Integration
For closets with bi-fold doors that don't allow for an over-the-door shoe rack, try using a vertical hamper or other storage bin. "It's a great way to keep off-season shoes while the current ones are on display."
What About Accessories?
Of course, shoes aren't the only accessory housed in your closet. Purses, belts, scarves, etc., all need an easy-to-find place in there, as well.
This is where Meena suggests become BFFs with storage bins. "Use labeled bins to hold like-with-like and place them on a high shelf," she suggests. "Then you can pull them down and look through the whole category at once."
Don't Let Hampers Eat into Your Space
Sadly, laundry (and its attendant hampers) are a fact of life — and a fact that can seriously eat into closet space if done the wrong way. Cattano recommends having two hampers, "one for machine wash, the other for hand wash and dry cleaning."
And if your closet is so teeny that you can't sacrifice the real estate for a laundry basket, Meena suggests buying a pretty basket (with a lid) that you're not embarrassed to store in your bedroom.
Keep It Simple
Perhaps more difficult than organizing a small closet is keeping said closet organized.
The key lies in tailoring organization to our personalities, as well as maintenance. "Organization is a series of habits. Make those habits work for you, not against you," Meena notes.
"If you tend to be a bit more casual, don't try implementing a military system." She also recommends decluttering your space two to three times a year (with the change of seasons) to keep the mess in check.
October 2016
CAFE STIR
Read original article here >