7 Tools Professional Organizers Swear By at Good Housekeeping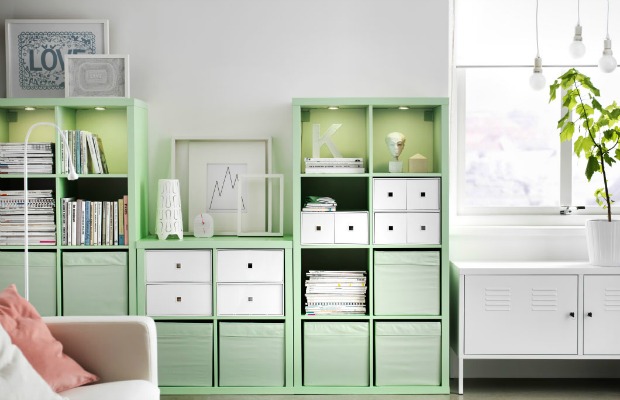 Organizing your home isn't just about buying boxes and bins for everything you own (it also requires a bit of soul-searching and a lot of paring down your stuff). But when youhave finally cleared out your closet or controlled your paper clutter, it's helpful to have some tools to keep things tidy. We asked professional organizers which tried-and-true items they use again and again.
1. Cube shelving
"We love cube shelving, like the bookcases in the IKEA KALLAX collection (which replaced the popular EXPEDIT line this year)," says Maeve Richmond, founder of the organizing coaching service Maeve's Method. "They're wonderfully multipurpose, since they can serve both as wall units and room dividers, and fit everything from books to gadgets to toys. I use them at home, and recommend them to clients all the time."
2. Open canvas bins
These neutral bins are easy on the eyes, so they're great for tucking into places that require extra organization, as well as a bit of polish. Try using them to stow scarves and hats in your entryway, or extra towels in a guest bathroom. "Bins you can leave in plain sight are great for visual people; they work when it's not hard to go looking for them," says Amelia Meena, personal organizer and founder of Appleshine.
3. Over-the-door shoe organizer
If you're only using these hanging racks to store shoes, you've only touched the tip of the organizing iceberg. "They're so interchangeable," says Amelia. "Use them to store toiletries in the bathroom or linen closet, or as an easy-to-fill spot for kids' small toys. Once, I worked with photographer who used one for his tools and materials."
4. Slim hangers
Huggable Hangers (which earned the Good Housekeeping Seal), are made to streamline your closet with their slender style, and their velvet-like non-slip covering keeps garments in place. "They save space, and they treat your clothing better, " says Jeni Aron (a.k.a. the Clutter Cowgirl). "Clothes stay on them, and they're really nice to look at since they don't get all jumbled."
5. Clear shoe boxes
"These versatile, stackable bins are definitely not just for shoes," says Jeni. "I use them in the refrigerator, under my bathroom sink, and to store everything from scarves to light bulbs. I like that you can see inside, but they still look neat. Plus, they're easy to open and inexpensive.
6. Trays
"Trays are ideal for sectioning space on shelves, inside drawers, and on desks and countertops," says Maeve. "They also help people who tend to dump stuff down since they provide a target or 'drop zone.' It's okay to let things hang loose when they're contained inside a tray's tiny walls."
7. Chalkboard labels
"People love to use labels, but permanent ones don't provide for a very flexible system, which can cause your efforts to break down." says Maeve. "But you can adjust and rewrite chalkboard labels as your needs change."
GOOD HOUSEKEEPING
October 30, 2014
Read original article here >
---
---