When a friend of Ed Roth's contacted us about his office space, we were a bit smitten. "After binging on your 'Before & ...
Did you know that research has shown that keeping an inspiring environment at home and/or work can drastically enhance your productivity and ...
I am the reluctant owner of three glue guns, seven pairs of scissors, three bone folders and more tissue paper than one person should be allowed ...
It's time for spring cleaning, and chances are what needs tidying up most is your schedule. Your daily routine can always use a little tightening, so ...
Professional organizers — though they swear they're not perfect! — tend to be the type of people who just have it together (it's kinda their ...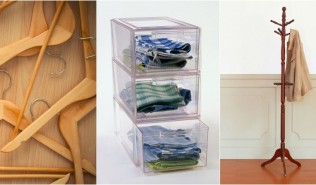 When it comes to tidying up your home, you might assume that any organizer is better than none at all. Pros have the tools they swear by, but other ...
A smart system now makes for a merrier routine next year. 1. Your collection is bloated with decorations you don't put up. Tastes ...
Organizing your home isn't just about buying boxes and bins for everything you own (it also requires a bit of soul-searching and a ...